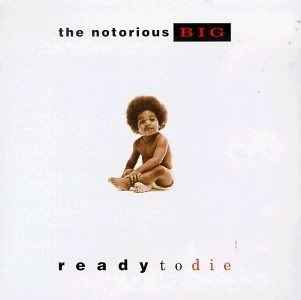 I promised to put yall up on good music; whether that's new or old. I thought it'd be dope to do a segment every couple blogs on a classic Hip Hop album to school some of the young ones on the history of this Hip Hop Culture. So I'm going to say something real crazy here…in my humble opinion, the greatest Hip Hop album of all time does not start with Ill or end with Matic. It's Ready to Die.
Being a West Coast kid, I could've said The Chronic, or Me Against the World, or Doggystyle…but that would be lying. Ready to Die gives me chills to this day. I first listened to this album in its entirety during my Junior Year of High School, on my quest to hear all of the so-called "classic" albums. Nothing is touching this album.
From the jump, Ready to Die establishes the component that is needed in every classic album (*take note rappers). It establishes an eerie vibe/setting. The album sounds like impending death. The LP has every kind of track you need as well: story-telling(Juciy), drug raps (10 Crack Commandments), a song for the hood (Everyday Struggle), and club tracks (Big Poppa). No slight to Illmatic, which is definitely top 3, but it did not have all of these ingredients.
Not to mention, Biggie dropped one of the craziest lines ever without having the homo card pulled on him:
When I met you I admit, my first thoughts was to trick/
You look so good, huh, I'd suck on ya daddy's dick

Biggie Smalls being the illest is debatable…but in my book, he created the best Hip Hop LP…period.
Here is my favorite track off the album:

*Note: Yea...I f*cked up....10 Crack Commandments wasn't on Ready to Die...I always mix up my Primo tracks...for some reason I think that Unbelievable was on Life After Death...probably because 10 Crack Commandments is one of the dopest songs ever, so why not be on the dopest album ever!
Labels: classic albums, hip hop, illmatic, jansport j, ready to die