So "The Carry-On Experience" will be my first official album. A year ago, I put a couple projects out, and had the nerve to call them albums. With the patience and detail I've given to Carry-On, it would be blasphemous to call these former projects actual albums. If you need something to hold you over until the album releases, check out these projects. Just think, if my career ever goes anywhere, these will be the most limited of editions, because I'll delete all traces of the links from my own promotion activities!ha So download them, because this will be the only place you'll be able to find these projects...unless you supported from the beginning and downloaded them :).
The Check-In
This is a project I did in May of 07. First ever. Pretty interesting joints/beats that I ended up re-doing. A remix project.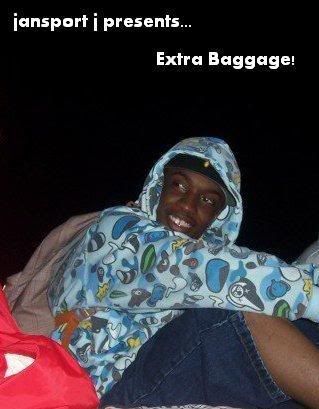 Extra Baggage
Project released in June of 07. A lot better than the first. Some tracks are even enjoyable! A remix project.
The Reagan Baby Mixtape
Probably the funnest project...I put it out in July 2007 (you can see how much effort I put into these projects). All beats contain samples from TV shows I watched growin up. A remix project.
This is my baby...closest thing to an album I've done. Baby-making music. Instrumental album
Labels: catalogue, hip hop, jansport j